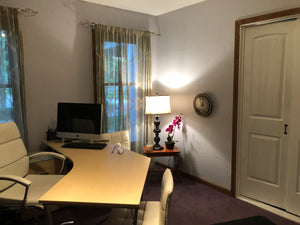 What To Expect: HEALING MODALITIES
Osteopathy, Mindfulness and Homeopathy
I will use the examination and healing modality that is best for you or by your choice.
WHAT I DO IN GENERAL:
Detailed Extensive Interview: Explore the emotional, mental and physical history of the client and their family to find patterns of emotional and mental behavior understand how it relates to the patterns created in the physical body. Exploration helps the client become aware of the root cause of complaints, which is the first step in healing
Examine: Examination of the physical body is performed to detect physical imbalances or structural dysfunctions, which will be treated with a combination of osteopathic and healing energy techniques. Each session is meant to engage and help to stimulate the internal vital force or self-healing mechanism to heal the physical body, mind and emotions.3
Analyze Data from Interview: The totality of imbalance is perceived after the history and examination. Key imbalances are placed into a software program to find a remedy in nature that mimics the imbalance known by unique symptoms for homeopathic care. The remedy that best fits the imbalance is given in tiny doses over time to give a type of energetic sympathy for the symptoms of imbalance. The body needs support with gentle doses, rather than suppression with strong drugs for progressive healing of the body and mind.
Mindfulness Coaching: Give you reading assignments or advice to help you on your healing journey if needed.
Direct access to Dr. Jane is a benefit of this relationship where you can get instant advice, counseling, monitoring the effects of a remedy and support after osteopathic treatments.
What to Expect during and after an Osteopathic Session or OMT
You should wear loose clothing. I will palpate many parts of your musculoskeletal system searching for imbalances and then proceed to correct them with gentle osteopathic techniques (myofascial, craniosacral, articulatory, or other indirect techniques). You will be free to stop treatment anytime or let me know if you feel uncomfortable in anyway. You can repeat a treatment as needed though not usually more than once a week. A session can be 30 minutes or up to 45 minutes. Osteopathic gentle healing techniques improve the structure or alignment of body structure, which in turn frees the body and mind to function better, stimulating self-healing. You may feel lightheaded after a session, so get up slowly and drink plenty of water the rest of the day.
What To Expect during and after the Homeopathic Sessions
When you come to this appointment, you will notice that you are given truly individualized care. There is no intermediary person between you and your physician here. You will speak directly with me whether by video, phone or in person.
My goal is to understand the person I am treating physically, mentally and emotionally so I can perceive what needs to be healed.
This is not a rushed interview and all your questions and concerns will be addressed by me. You can expect that I will return emails, phone calls personally, as well, to avoid miscommunications.
Your initial consultation will encompass an in-depth interview. You can expect this first visit to take about 1.5-2 hours. It will include a discussion of your main complaint as well as the history of illness in yourself and your family.
The goal of this interview is to gain an understanding your unique sensitivities and reaction patterns (or physiology) within your body, mind and emotions…your unique total imbalance and genetic patterns.
When all of the information has been discussed, underlying causes are considered and the search for a remedy begins. My goal is to eliminate the causes of imbalance and stimulate your body's own natural curative powers. Conventional medicine usually covers up symptoms with high doses of drugs and doesn't always address the sequence and progression of imbalances which often indicate the cause and cure.
After this initial consultation, you will be prescribed a remedy based on the knowledge of the curative powers of medicines from extensive literature and experience.  For chronic illness, I may conduct further research if a well suited remedy is not discovered after the interview.  In such case, I will call you with a best fitting solution within a day or two.
Follow-up
You may feel significantly better after only the first remedy. Other times remedies may need to work over a long period of time to restore health. A remedy may need to be repeated or changed as your reaction to the remedy progresses or continues over weeks to months. Several visits or extended treatment may be necessary.
Homeopathic remedies are expected to support your body's vital force to return back to health and are not to be taken indefinitely.
It is extremely important to follow-up on a regular basis as your body changes in reaction to the remedy and as the stresses of life change your needs.
Follow-ups will help to assess your progress, and are required to adequately review  your case in all its details.  It is also very important to adjust the dose that is optimal for you. The follow-up will help to determine this as well. Follow-ups are usually done every 6-8 weeks and even sooner in the beginning of treatment just to make sure you have a good understanding of how to take your remedy and what to expect.
Any acute or new set of symptoms that come to the surface requires that you make a follow-up appointment with me as well.